Facilities

Department of Pharmaceutics
The department focuses on providing an understanding of the concept and design of various pharmaceutical dosage forms. The laboratories contain specialized equipments such as disintegration test apparatus, dissolution test apparatus, Monsanto and Pfizer hardness tester, friability apparatus, stability chambers, rotary shaker, automatic rotary tablet compression machine, capsule filling machine, tablet coating machine electronic single pan balances, mechanical and magnetic stirrers and Brookefield viscometer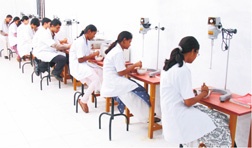 Department of Pharmacology
The department aims at developing the student's ability to screen new molecules for their potential pharmacological effects and toxicity. The laboratory is well-equipped with different instruments such as semi auto analyzer, students physiograph, Langendorf's heart perfusion apparatus, student's organ bath (temperature controlled), elevated plus maze, ECG equipment for rats, actophotometer, analgesiometer, electro convulsiometer, plethesmometer, pole climbing apparatus, histamine chamber, stair case apparatus and rota rod apparatus.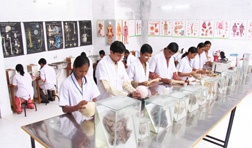 Department of Pharmaceutical Chemistry
Synthesis and quality control of inorganic and organic medicinal compounds are carried out here making use of comprehensive equipment provisions like pH meter, UV visible spectrophotometer, High Performance Liquid Chromatography, Nephloturbidometer, Fluorimeter, Flame photometer, Photo colorimeter, Karlfisher Titrimeter, Potentiometer  electronic balances, rotary flash evaporator, chromatographic columns, hot air oven, vacuum desiccators, Water deionizer, vacuum filter pump and heating mantles.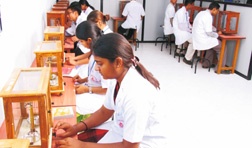 Department of Pharmacognosy
The department aims to make the students capable of isolating and estimating various phytoconstituents from herbs and development of new biotechnological techniques. The laboratories have provisions for a large number of indigenous organized and unorganized crude drugs required for morphological and phytochemical studies. The apparatus available are Gel electrophoresis, centrifuge, TLC kits, triple load balances, laminar air flow, muffle furnace, ovens, microscopes and distillation units, Soxhlet Apparatus, BOD incubator, Autoclaves.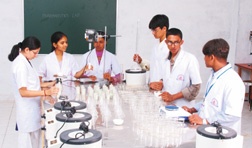 Class Rooms 
Theoretical expertise is imparted to the students in spacious and well-equipped class rooms with LCD Projector, Slide Projector and Over Head Projector.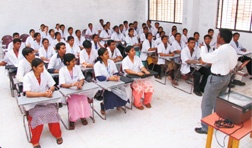 Computer Laboratory
Technological advancement has fine-tuned the profession so as to make way for enhanced service in the field of Pharmaceutical Sciences. Students are trained in the technical aspects of the subjects in the well-equipped computer laboratory.